Swimming Goggles with Anti-Fog UV Protection
2
sold in the past
8
hours
Please hurry up, just left in stock
Subcribe to back in stock notification
Customers viewing this product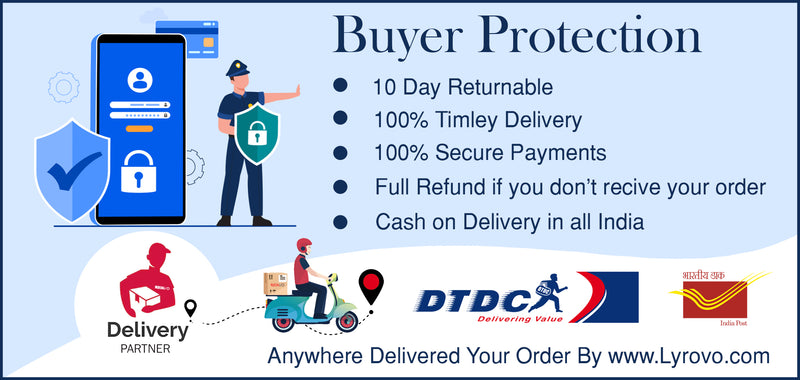 Lyrovo Swimming Goggles with Anti-Fog UV Protection No Leaking Coated Lens with Case, Nose Clip, Earplugs for Boys Girls Youth Kids
★ BEST EYE PROTECTION FOR YOUR KID: Lyrovo swim goggles have double -deck seal design and flexible silicone gasket frame construction to ensure a leak-proof seal. The outer surfaces of the lenses are carefully coated with ultraviolet-proof material, effectively protect your kids' eyes from being hurt by bright sunlight, especially when you swim in the open air. Be it the chlorine-filled water or the sun's UV light, your child's eyes can take advantage of the special 180 degrees vision.

★ COMFORTABLE ERGONOMIC DESIGN: Our swim goggles are only built from high quality premium materials, with soft Silicone Cushioned Frames and comfortable nose bridge for the best possible fit. 3D ergonomic design fits your eye socket. Its well-designed buckle makes it easy to put on and take off swimming goggles. Our straps are easily to adjust, so that your kids will always have a good fitting set of swimming goggles, even as they grow.

★ THE SAFEST MATERIAL: Our kid swimming goggles are Made from high quality odorless and hypoallergenic silicone, the swim goggles are latex and PVC free, which is especially recommended for your children. No hair pulling and no suction marks around the eyes, the Swim Elite Goggles will be such a pleasure to wear. Give your children these swim goggles that can stay steadily during each and every water sport activity!

★ ENJOY SWIMMING--The Mirrored anti-fog goggles used poly-carbonate has incredible impact resistance The case keep your kids' swim goggles safe, easy to carry and fun with their dedicated casing

★ BEST QUALITY : Our swim goggles are designed to custom fit your smile. Quality is our main concern, if you have any question, please do not hesitate to contact us.
DAILY USE PRECAUTIONS:
✓ Do not wipe the inside lens of the kids goggles with hands or rough foreign bodies to avoid damaging the anti-fogging coating.
✓ Please always remember that the main cause of the leak may not be caused by the strap, but there is a gap in the goggles frame. Check carefully to see if the kids swim goggles are properly installed, with or without the lead strap for vacuum sealing.
✓ Please do not wipe or touch the inner surfaces of lenses and keep it dry and clean after you have used.
✓ Do not use in sauna or high temperature and humidity. Do not expose to sunlight or not dry for a long time.
✓ This swim goggles fit most kids. It might not fit a big nose or a high nose bridge.
✓ Do not recommend to people with over 100 degrees myopia eyes.
✓ Rinse in cold water and dry after use.
✓ Avoid contact with sharp objects. The lens should not rub with the rough surface.
✓ These swim goggles are not sunglasses, your kid should not wear them to see the sun directly.
WHAT YOU WILL GET
---Kids Swim Goggles
--- Earplugs
--- Nose Clip
--- Swimming Goggles Case
Lyrovo Kids Swimming Goggles Set- Let Your Kids Enjoy Wonderful Swimming Time!
SWIM WELL
The soft silicone frame and nose bridge are not only designed to be comfortable, but they create the perfect amount of vacuum to

 

KEEP WATER OUT. So they can protect your kids' eyes from the chlorine that might irritate them.
The 180 degrees field of vision and advanced anti fog technology with

 

NO BLURRY

 

finishes reduce tunnel vision and allow to see clear all the times.
Soft Duble Silicone Cushions with More Comfortable

100% UV Protection

Advanced Anti Fog

Anti-Shatter Lenses

Wide View Design

Easily Adjustable Head-Strap

Skin Friendly Material 100% PVC free & Latex Free
3D Memory Silicone Design
The shape of 3D memory silicone gasket can be changed automatically to fit your kids' face after using several times.
UV Protection
UV protected lenses block the sun's harmful UVA and UVB rays. Mirrored lens help reduce glare.
Clear View Design & Anti-fog Coating
Anti-Fog coating helps your kids to prevent the condensation of water and gives you clear sight under water.
Get Free Bonus Accessories
Nose Clips, Earplugs and Case are included in the kit so that you can swim with comfortable Experience.
Panoramic Lenses
Lyrovo Kids Swim Goggles are design with wider lenses which Provides maximum peripheral vision– 15% more.
Unisex Design
Different Color for your kids to choose, the excellent choice for yourself or families, friends!