High Range Binocular
2
sold in the past
8
hours
Please hurry up, just left in stock
Rs. 1,999.00
Rs. 1,090.00
Customers viewing this product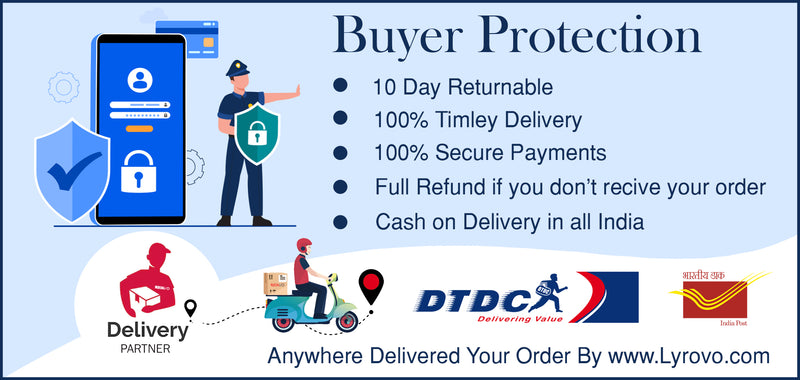 Lyrovo High Range Binocular 
8 x magnification power, 40 mm objective lens diameter, 22 mm eye pieces, 188 ft/1000 Yds (68M/1000M),great focus on fast-moving subjects, everything you can see in HD Compact size L=18 B=14 H=5 in cm ,strap and pouch included, built with standard tripod screw.

Product usages are its portable for hunting, bird watching, camping, hiking, backpacking, traveling, concerts, sporting events and other outdoor adventures.

High Powered Zoom Prism offer sharp, clear, high contrast images while the 40mm fully multi-coated lenses deliver the brightness and color fidelity you need.

The large smooth Center Focus Wheel and adjustable interpapillary distance make the binocular easy to focus on the target ,brings the objects up close, get the finest detail.

Durable Stable with eyepiece and Lens Protection Covers, provide Security No-Slip Ergo-Grip, Completely adjustable to children and adults, perfect for Sight Seeing.



Product description
How to use the binocular : 

A:IDP adjustment: 
Set the interpapillary distance by grasping the body and bending it until you can see one circle of view. The setting for your eyes will be indicated on the IPD scale. (Note the scale setting for later use.) 

B:Focusing: 
1. Close your right eye and sight an object with your left eye. Focus the binocular by rotating the center focus wheel until the image is sharp and clear. 
2. Open your right eye and close your left eye. Rotating the right eyepiece until the object sighted is sharp and clear(Note the setting of diopter scale for later use.) 
3. Both sides(eyes) are now in focus and you will need to use only the center focus wheel to focus on the other objects. 
C:Rubber fold-down eye cups: Fold down for use with eyeglasses and fold up for use without eyeglasses. They provide comfort and promote viewing ease. 

Specifications: 

1.Magnification: 8X 
2. Eye Lens Diameter: 20mm 
3. Objective Lens Diameter: 40mm 
4. Binoculars size: 180 x 180 x 50mm (standard) 
5. Net Weight: 560g 

Package Contents: 
1X High Powered Binocular 
1X Bag 

Application: 
Ideal for using in hiking, bird watching, star gazing, hunting, camping, concerts, theater, sporting events and other outdoor adventures, etc.