Handheld Percussion Massager Electric Back Massager
2
sold in the past
8
hours
Please hurry up, just left in stock
Customers viewing this product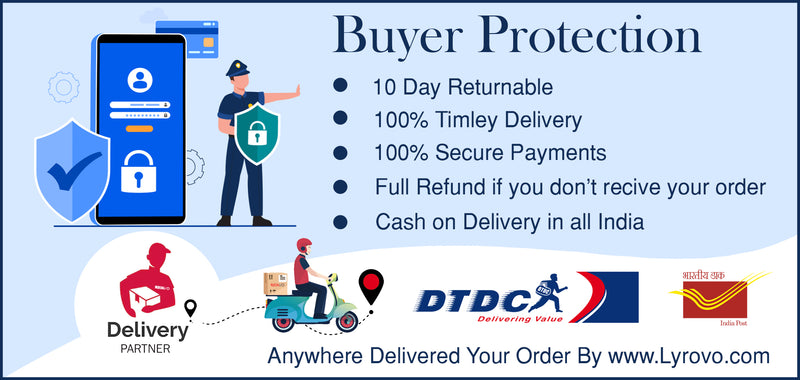 Lyrovo Handheld Percussion Massager Electric Back Massager
✔ THERAPEUTIC MUSCLE PAIN & FATIGUE RELIEF – Equipped with a powerful vibration motor which can generate 3800 pulses per minute to penetrate deep into the tightest muscles; It can effectively release your tensions, soothing muscles pain on your back, neck, arm, shoulder, waist, leg, foot and make you relaxed.

✔ 5 FUNCTIONAL & INTERCHANGEABLE MASSAGE HEADS – Offer you multiple massage options like kneading or percussion as a deep tissue handheld massager and make you easy to customize your personal home massage.

✔ 3 SPEED LEVELS & 3 MASSAGE MODES – You can easily adjust the massage intensity to your most comfortable level; Meanwhile the 5 massage modes which offer you different frequency massage can satisfy your different needs for full body massage.

✔ LOW NOISE & SAFE DESIGN – Improved lower noise design of less than 60db makes it more comfortable for use. This handheld back massager also has 15 minutes auto power off function to prevent overheating and make you safer for daily use. One button switch makes it simple and easy to use even for elder people.

FASHION DESIGN & GREAT GIFT – Ergonomic handle design plus 3 meters long power cord make this neck massager convenient for your daily use. Best gift for men, women, parents on Thanksgiving, Christmas, Mother's Day, Father's Day, Birthday or other special events.
Important information
Safety Information:
When using this handheld back massager, please do not massage more than 3 minutes for each body part and no more than 20 minutes for the whole process.
If You Have Any Physical Injury Kindly Take Advise Before Use This Massager From Your Doctor

 

 
Legal Disclaimer:
Warranty: Product have 6 Month* Warranty Register your warranty within 10 days of Purchase || Warranty Activation is Mandatory

 
Product description
Want to soothe your aching muscles and release your tensions after a tiring day work? Buy this VOROLY YC-701 handheld massager, it can effectively release your tensions, soothing muscles pain on your back, neck, arm, shoulder, waist, leg, foot and make you relaxed. It can also relieve swelling and increase muscle flexibility.

. Main features:

1. 3800 Powerful pulses per minute
2. 5 Functional & exchangeable massage heads
3. 3 Adjustable speed levels
4. 3 Massage modes with different massage frequency
5. 15 Minutes auto power off to prevent overheating
6. Double protection circuit design for safe use.
7. Low noise
8. Fashion & ergonomic design
9. 3 Meters long power cord
10. One button switch & easy operation

IMPORTANT!

When using this handheld back massager, please do not massage more than 3 minutes for each body part and no more than 20 minutes for the whole process.

. Box content:

1) 1 x VOROLY YC-701 electric massager
2) 1 x 5 heads massage head
3) 1 x U-shape massage head
4) 1 x Acupuncture massage head
5) 1 x Shiatsu massage head\
6) 1 x Tapping massage head
7) 1 x User manual


Warranty: Product have 6 Month* Warranty Register your warranty within 10 days of Purchase || Warranty Activation is Mandatory