7 Mode High Pressure Car Water Spray Gun
2
sold in the past
8
hours
Please hurry up, just left in stock
Customers viewing this product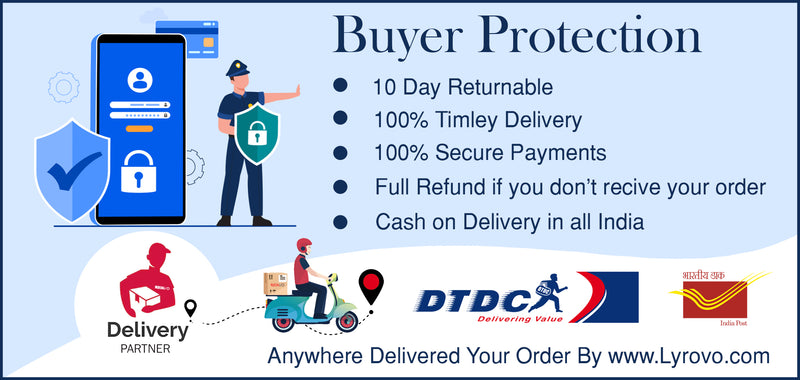 Lyrovo 
7 Mode High Pressure Car Water Spray Gun - 
6 Month Warranty
Warranty:Product have 6 Month* Warranty Register your warranty within 10 days of Purchase || Warranty Activation is Mandatory

(7-Pattern Spray Gun): 1)Shower 2)Cone 3)Mist 4)Flate 5)Angle 6)Full 7)Center

Spray Hose Gun For All 1/2" Female Hose Connectors

Ergonomic Soft Rubber Grip For Comfort And Protection

Fully Tested For Durability
Product description
This 7-Pattern water spray gun has a Rubber-coated spray head with a soft dial ring to protect against damage.

A soft, insulated grip protects the hand from hot or cold water temperature.

It has a fiberglass reinforced nylon trigger lever.

Spray patterns include:
Shower,
Mist,
Soaker,
Cone,
Flat,
Centre,
Jet.

Durability & Ergonomics.

Made of metal body with rubberized outer coating, this hose nozzle is easy to grip, slip-resistant and comfortable fit.

The included high quality removable nozzle allows you to fix it to any 1/2 inch bore garden hose, you can remove it in case you already have GHT fittings on your hose Ergonomic Soft Rubber Grip.

Means comfortable spraying and your hand won't tire.

The soft rubber coating makes this garden hose nozzle very comfortable in your hand so you can water for long periods of time

ROBUST: Metal elements result in greater durability


UNIVERSAL: Compatible with all available click systems.